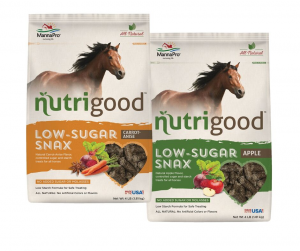 Start your week off right with our new MannaPro Monday's! Come into the store and buy one bottle of horse fly spray, and receive a bag of treats for FREE! That's right, you read that correctly! We have a wide variety of options to choose from. Ranging from Apple Nuggets to Senior Snax, your horse will feel spoiled with their new selection of goodies.
MannaPro fly sprays are top quality and will fight off those pesky bugs. With an easy application lid, you'll find it much more convenient to mist off your horse. Our Pro-Force model repels for up to 14 days and has a rapid knockdown to flies. Additionally, the Opti-Force is sweat resistant which is perfect for this Florida heat. Equally, both are exceptional options to choose from to kill and retract those flies. Stop by to make a choice best fit for your needs.
Also, you can't forget treats! Our Nutrigood Low Sugar Snax in Apple or Carrot is a favorite choice. If your four-legged friend has a sweet tooth, pick them up a peppermint or molasses mixture! MannaPro's small hand held bags offer a great way to carry your treats or have them readily available in the barn for a reward. We have different flavors to choose from so don't worry we have you covered!
Finally, make MannaPro Monday's your new favorite day at Kissimmee Valley Feed! If you have any questions about our products, give us a call. To learn more, visit here. See you soon!