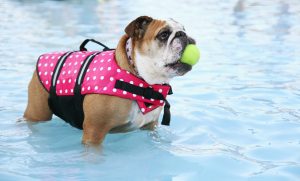 Temperatures are soaring into the 90s and 100s and such intense heat is not only dangerous for humans but for pets as well. The American Animal Hospital Association (AAHA) offers a few tips to protect pets during summer heat waves.
Cars are potential death traps during the hot summer months because inside temperatures can quickly climb to more than 120 degrees Fahrenheit on even a mild sunny day. It's best to leave your pet at home while running errands during hot weather. If you absolutely must leave your pet in a car, please do the following:
Open windows and vents as wide as possible without providing an escape route; or, put your pet in a well-ventilated cage inside the car and open the windows fully.

Provide fresh water.

Check the car every 10 minutes.

If your pet is panting, has a staring or anxious expression, does not obey commands, has warm, dry skin and a high fever, rapid heartbeat, or is vomiting, lower the body temperature quickly with cool water – either by immersion or by spraying thoroughly with a garden hose. Call your veterinarian immediately.

If your pet lives outdoors, make sure there is adequate shelter for protection from the midday sun and heat. Outdoor kennels should be well-ventilated and in a shaded area. There should always be some shade for the pet to get out of the sun.

Also, make sure there is plenty of fresh drinking water available to your pet. The bowl should be placed in a shaded area where it cannot be heated by the sun.

Exercise is important, but overexertion during hot weather commonly causes heat stress. Avoid excessive exercise during hot days.

And, keep your pet well-groomed. Long hair and hair mats may need to be clipped to help cool the animal.
Source: Sand Road Animal Hospital