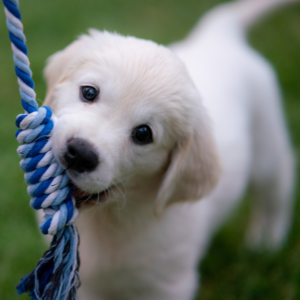 Puppy Adoption Guide: Puppy adoption can be the best time of your life and certainly the best time (so far!) of your puppy's life. But the process isn't without stress. Questions and uncertainty abound, especially if this is your first time adopting a puppy. What kind of puppy food should you get? Is puppy food actually that different from adult dog food? When should puppy potty training happen, and how do you handle the inevitable messes? What about leash training and socialization? You'll likely have dozens of questions about puppy adoption, which is why we've assembled a number of tips for puppy adoption to help you and your new pal get off on the right…paw.
THE BUILDING BLOCKS OF YOUR PUPPY'S DIET:
One of the more important things you need right away is a solid understanding of puppy food nutrition. An often-raised question is "Do I really need puppy food?" and the answer is always "You really need puppy food," or at least an all-life-stages food that is appropriate for puppies. So, when choosing a recipe, make sure you look for a "puppy diet" food or that the bag or can is very clearly labeled as "for puppies."
Building the right nutrition into their diet now will set your puppy up for long and healthy journey into adulthood. Protein and fat are absolutely vital to your pup's growing body, so look for those levels specifically before making your choice. But how much protein does a puppy need? There's no exact answer to that question, since puppies vary wildly in size from breed to breed and age to age and so do their needs regarding puppy food nutrition. VCA Animal Hospitals recommend that the protein range for optimal puppy growth is 22–32 percent for dry puppy food.
To make things a bit more confusing, small breed and large breed puppies have their own specific requirements, partly because small breed puppies tend to have a higher metabolism and need more calories to keep up with their higher energy levels. Long story short: Consult with your veterinarian before choosing your puppy food.
IT'S GO TIME: CLEANING UP WHEN POTTY TRAINING YOUR PUPPY
Puppy potty training. It isn't always easy, and it will most certainly be messy at times. Every puppy is different, so every puppy potty training timeline will be different. Your pup goes on their own schedule, especially at the beginning of their potty training.
To avoid puppy messes as much as possible, here are some tried-and-true puppy potty training tips.
Start early. You can "officially" start potty training your pup as soon as you bring them home. Invest in some pee pads and get to work!
Be positive. That old "rub their nose in it" method has no place in any civilized puppy home, and it probably never should have been used. This is because it simply doesn't work! Scolding, yelling or rubbing their nose in the spot only breeds confusion. "Am I not supposed to poop at all?" Instead, praise your pooch for doing what they need to do while immediately taking them outside, or wherever the desired target location is.
Set an indoor location. Unless you are on a 24/7 vigil, your puppy will go indoors. But you can control where they go and set expectations that there are designated puppy potty zones. This is where pee pads come in handy. If they know that they can go only on a pee pad, soon that pee pad will become "the grass," and they'll understand.
Crate training is puppy potty training. Dogs really try to avoid going to the bathroom where they sleep, so crate training doubles as potty training. This isn't to say that they won't have accidents in their crate; but most pups will hold it as long as they possibly can while crated.
Stick to a routine. Dogs are creatures of habit, so turn puppy potty breaks into a habit. If you take them outside at random, they won't learn when it's time to go. Eliminate the time variable and eventually they'll eliminate…on time!
No matter how thorough your puppy potty training methods are, there will be accidents. And that's OK! When it's go time and they don't make it to the pee pad or to the front yard, you'll be prepared, thanks to our puppy potty training cleanup tips. We'll tell you how to block smells and stains from your temporarily thwarted puppy potty training methods, and offer up some tips and tricks for easy cleanup.
There are plenty more bases to cover, like leash training and safety tips. You can read the more in depth puppy adoption guide here.
Visit us at Kissimmee Valley feed to get all the puppy treats and toys.