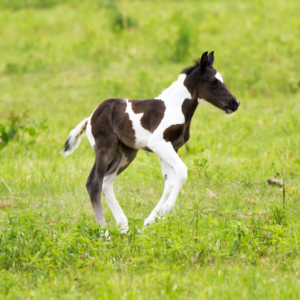 Signs of a Healthy Foal: Chances are your foal will sail through the baby stage with flying colors, especially if it's normal at birth and good management practices are in place at your farm. However, even under the best circumstances, it's possible that your youngster could fall prey to one or more problems that can affect foals. How does a healthy newborn foal appear?
Healthy newborn foals should:
Assume a sternal position (be able to sit up on his chest) within minutes of delivery.
Breathe easily, slowing from an initial high of about 70 breaths per minute to 40 to 60 minutes within 15 minutes of birth.
Have red or at least pink mucous membranes, indicating adequate oxygen is reaching the tissues.
Display a strong suckle reflex within two to 20 minutes of birth.
Appear alert and display an affinity for the dam.
Be able to stand within two hours and nurse within three hours.
If your foal fails to meet these criteria, he may already be suffering from a serious condition and needs the prompt attention of a veterinarian. Good observation coupled with prompt action gives you the best opportunity to help your foal avoid a setback.
Make every effort to maximize the chances of your foal's continued good health. These good management practices can make the difference between a healthy foal and a sick one:
A well-ventilated, clean foaling environment.
Good farm and stable hygiene and parasite control.
Sound nutrition, current vaccinations and regular deworming of all equine residents.
Plenty of fresh air and room to exercise for the foal as well as commencement of a regular vaccination and deworming program.
Our Foal Health Watch Guide describes signs of a variety of common ailments that can occur during the first 6 months of a foal's life. In most cases, even if the problem is not life-threatening, you will still want your veterinarian to confirm the diagnosis and direct you in the most effective treatment. Please keep in mind this guide lists signs that are frequently observed with certain foal disorders, but not all foals display the same signs or to the same degree. A foal's condition can deteriorate very rapidly, so don't wait until your sick baby shows all the signs before acting and calling your veterinarian.
Learn more about Foal Health from Nutrena.
Visit Kissimmee Valley Feed to purchase horse feed and optimize you horse's health!