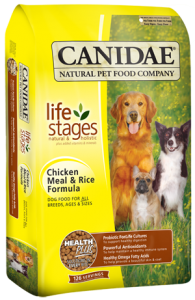 From Monday, June 25th through Saturday, July 7th, take $8 OFF Canidae Dog Food products, including All Life Stages Chicken and Rice Dog Food (44 lbs.), All Life Stages Turkey Meal and Brown Rice Large Breed (44 lbs.), and All Life Stages Multi-Protein (44 lbs.).
Come by Kissimmee Valley Feed between Monday, June 25th, and Saturday, July 7th and take $8 OFF select Canidae dog food products. These products are filled with nutrients to keep your pup happy and healthy. You can learn more about each of the Canidae products on sale below.
We have a variety of pet food available, take a look at some of the other dog foods we have here. Come by Kissimmee Valley Feed over the next few days and save on Canidae products. Give us a call or stop by one of our store locations if you have any questions!