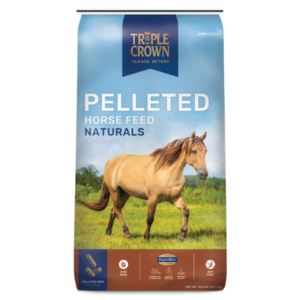 Triple Crown Naturals Pelleted horse feed features a nutritious, corn and soybean free recipe that supplements its essential goodness with Equinix Organics, a unique combination of advanced supplements formulated to keep your horse at its healthiest.
This is the first of its kind to provide horses with wholesome, solid nutrition, just as Mother Nature intended. Featuring a healthy recipe that's made with non-GMO and soybean free ingredients, and includes essential vitamins and nutrients, Triple Crown Naturals is the perfect feed for owners who know real nutrition starts with real ingredients.
Feed Triple Crown Naturals Horse Feed at a rate that maintains your horse's desired body condition and energy level.  If feeding less than 6 lbs. per day to a mature horse or 3 lbs. per day to a pony also provide supplemental mineral and vitamin fortification.  Provide clean fresh water on a continuous basis.  Feed good quality hay or provide adequate pasture along with salt.
For additional information about our Naturals Feed, please read our FAQ.
Be sure to stop into either one of Kissimmee Valley Feed's two locations to browse our full stock of equine feed & supplies. Have questions? Please contact us with any questions you may have and our knowledgeable staff will help you find the best solutions for your equine.