Triple Crown Safe Starch Forage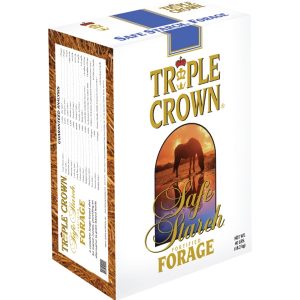 Triple Crown Safe Starch Forage is a chopped forage fortified with vitamins and minerals. Ideal for horses with metabolic disease, Founder/Laminitis, or poor dentition.
This product (a mixture of orchard and Timothy hays) provides horses with their entire diet – forage, as well as vitamins and minerals. Featuring Triple Crown's unique EquiMix technology, Triple Crown Safe Starch forage is specially selected, low NSC grass hay forage that is molasses and grain free, and provides 6% fat. This feed is an all in one diet for mature horses. No other hay, pasture, or mineral and vitamin supplement is required to provide your horse with a complete and balanced diet.
For more information, watch the Forage Plant Processing Video.