Triple Crown Growth Feed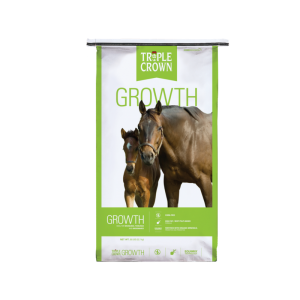 Triple Crown Growth is a moderate soluble carbohydrate, high fat, high fiber, beet pulp-based feed. Ideal for weanlings, yearlings, broodmares, and breeding stallions.
This feed is fortified to provide essential amino acids, vitamins, minerals, probiotics, enzymes and proteins essential to equine growth. Utilizing the latest research regarding nutritional support for growing horses, Triple Crown Growth provides more calories through quality fiber and fat, reducing the need for elevated levels of carbohydrates, which helps your horse experience a more consistent growth pattern and healthier joints throughout its life. The product should be fed to growing horses along with access to good quality pasture and/or hay, fresh clean water and plenty of exercise.
To read more about feeding instructions and to find out why Triple Crown Feeds are superior, 
Watch our Video!