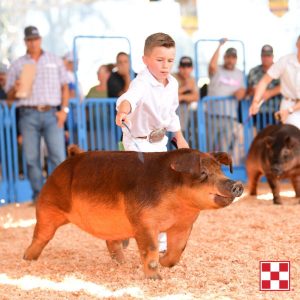 Show pigs arriving soon at Kissimmee Valley Feed (Main Store Location.) Working on a show pig project? The show pigs arrive on September 22nd at 4:00 pm.  This is your opportunity to hand-pick your piglet. The show pigs arrive on the trailer at 4:00 pm. Make sure you set your alarms to be on time!
Lyons Show Pigs have generously agreed to supply us with a top-quality selection. They are one of the best producers in the industry, we are confident that your blue ribbon winner is on its way! In order to get your name on the list, please fill out the attached form below. Forms are also available at the store. Registration is now opened and closes Friday September 17th. You must reserve your spot before the deadline closes.
This year the total for your show pig is $260. This includes your pig and a first free bag of show pig feed of your choice. You may either pay in full or submit your deposit of $130. The final payment is due on the date when you pick up your piglet. No exceptions. If you have any questions, give us a call at (407) 957-4100.
We look forward to supplying you with the highest quality feed and supplies and supporting each of our customers from start to finish. New to the show ring? Welcome! We can't wait to see the final outcome in February. Check out our list of products here.
Click here to download the Show Pig Order Form.