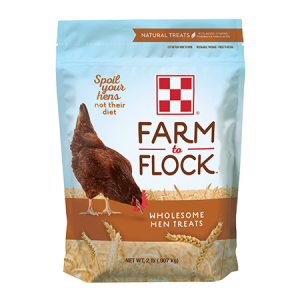 Purina Farm to Flock Treats are deliciously made and served up in a fun bite-sized shape that your birds will love! Treats like scratch grains, mealworms, and kitchen scraps are like candy for birds; fun to eat and a nice treat, but you wouldn't want to make a meal of them. This product offers essential nutrients your birds need so you can go ahead and spoil them without any guilt. Your girls will get a well-balanced mix of grains, vitamins, and minerals in every delightful bite. These treats also pair well with our Purina Flock Block and other similar products. You can't go wrong by scattering this throughout your daily feeding regiment.
The maker is operated by an American farmer-owned company who shares your values. Your flock's nutrition is our top priority. The hens at our farm love Purina Farm to Flock Treats, so we trust yours will too. Feeding directions are easy, just mix 2 tablespoons per day along with a complete and balanced Purina poultry diet!
We are happy to announce that we offer this product at Kissimmee Valley Feed! For more information on this product, visit here. We would love to know how your flock reacts to this product. Next time you're in the store, share with us!