Triple Crown Complete Feed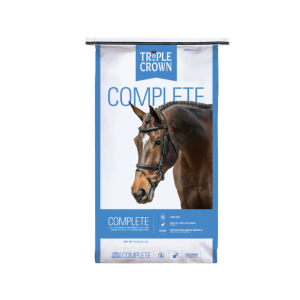 Triple Crown Complete Feed is a high fiber, beet pulp based feed. Ideal for hard keepers, performance horses, and horses with COPD/Heavers or Gastric ulcers. May also be used for a complete diet.
This textured feed is designed to provide mature performance horses with a complete diet that includes fiber. It features a beet pulp-based formula that provides both 12% protein and 12% fat, with all the calories, vitamins and minerals of a grain-based feed without the potentially harmful soluble carbohydrates. Complete is the perfect choice for horses with limited access to hay or poor quality hay. Triple Crown Complete can be also be soaked with warm water for older horses with poor teeth, with respiratory problems, or for horses prone to choking.