Purina Omega Match Ration Balancer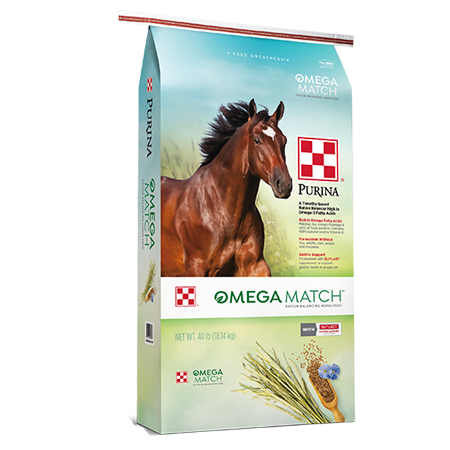 Horses get the omegas they need from pasture. Purina Omega Match Ration Balancer is for those horses who can't or don't have access to quality forage.
Purina Omega Match™ Ration Balancing Horse Feed is specially formulated by PhD equine nutritionists. The ingredients and benefits are inspired by feeding fresh pasture. However, it doesn't have the drawbacks of too many calories or soluble carbohydrates. Additionally, this limited-ingredient formula addresses common sensitivities. It provides the fatty acids and antioxidants naturally found in green grass. Omega Match Ration Balancer fills in nutritional gaps when your horse has a limited turnout. It is also ideal for use when your horse cannot graze green grass due to metabolic concerns. It's a great way of ensuring your horses get the nutrition they needs.
Available in a 40-lb bag. For more details see: Purina Omega Match Ration Balancer Product Sheet
Be sure to stop into one of Kissimmee Valley Feed's two locations. Browse our full stock of equine feed & supplies. Have questions? Please contact us and our knowledgeable staff will help you find the best solutions for your equine needs.
Features
A TIMOTHY-BASED RATION BALANCER HIGH IN OMEGA-3 FATTY
ACIDS Purina® Omega Match™ Ration Balancing Horse Feed
PROTEIN, VITAMIN AND MINERAL FORTIFICATION A concentrated formula to fill nutritional gaps common in forage or unfortified grains.
BALANCES OMEGA FATTY ACID RATIOS Feeding Omega Match™ Ration Balancer as the sole concentrate ration to stalled horses for 11 weeks resulted in the development of similar omega fatty acid ratios to horses on pasture.
NATURAL SOURCE VITAMIN E + A FULL SUPPLEMENTAL LEVEL OF BIOTIN Formulated with only a natural source of Vitamin E. When fed as directed, supports optimal Vitamin E levels and provides 15 mg of biotin to support hoof growth and repair.
FORMULATED WITHOUT Formulated without soy, alfalfa, corn, wheat and molasses to support horses with sensitivities to these ingredients.
ALL THE GOODNESS OF PASTURE WITHOUT THE GUILT Controlled starch & sugar formula with no molasses that results in minimal glucose and insulin response to feeding.
HIGH IN FAT & FIBER, HIGH-QUALITY PROTEIN + INDIVIDUAL AMINO ACIDS Inspired by the protein content and quality of fresh pasture. Suitable for horses in light to moderate work.
Guaranteed Analysis
Crude Protein (min) 13.50% Lysine (min) 1.80% Methionine (min) 0.70% Threonine (min) 0.60% Crude Fat (min) 8.50% Crude Fiber (max) 20.00% Acid Detergent Fiber (ADF) (max) 24.00% Neutral Detergent Fiber (NDF) (max) 39.00% Ash (max) 11.00% Starch (max) 7.50% Sugars (max) 5.00% Calcium (Ca) (min) 1.75% Calcium (Ca) (max) 2.25% Phosphorus (P) (min) 0.80% Sodium (Na) (max) 0.55% Sulfur (S) (max) 0.65% Potassium (K) (min) 0.50% Magnesium (Mg) (min) 0.30% Omega-3 Fatty Acid (min) 3.50% Omega-6 Fatty Acid (min) 1.20% Copper (Cu) (min) 65.00 ppm Selenium (Se) (min) 1.00 ppm Selenium (Se) (max) 1.20 ppm Zinc (Zn) (min) 225.00 ppm Vitamin A (min) 10,000 IU/lb Vitamin D3 (min) 2,000 IU/lb Vitamin E (min) 500 IU/lb Biotin (min) 7.50 mg/lb
Feeding
FEEDING DIRECTIONS WITH HAY OR PASTURE Purina Omega Match™ Ration Balancing Horse Feed can be used as the sole concentrate as described on the product label or used in conjunction with other feeding programs as a supplemental source of omega fatty acids.