Nutrena SafeChoice Maintenance Horse Feed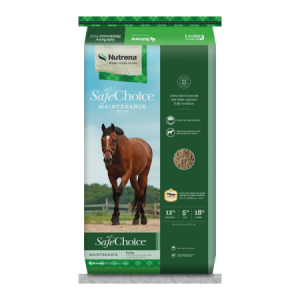 Nutrena SafeChoice Maintenance Horse Feed is a low starch formula that helps maintain body condition.
There may come a time when your horse's activity level tapers off a little. SafeChoice Maintenance is a proven controlled starch formula that supports healthy digestion at a moderate calorie level.
Moderate calorie level is ideal for easy keepers
Balanced for Low Activity
Provides balanced nutrition for maintenance to light exercise activity levels
Topline Balance
Including Topline Balance, the Nutrena brand's unique approach to topline health
Balanced Sources
Guaranteed maximums of starch and sugar levels
Prebiotics Probiotics
Added prebiotics and probiotics support the intestinal microbes to help your horse achieve more efficient absorption of nutrients.
Biotin
Guaranteed levels of biotin support hair coat and hoof development
Be sure to stop into either one of Kissimmee Valley Feed's two locations to browse our full stock of equine feed & supplies including SafeChoice Maintenance Horse Feed from Nutrena. Have questions? Please contact us with any questions you may have and our knowledgeable staff will help you find the best solutions for your equine.