EverSafe All-Natural Mosquito Control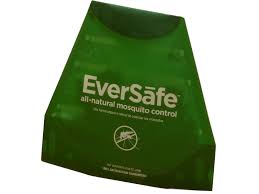 Need mosquito protection this summer for your family? Have no fear! Wonder how it all works? EverSafe All-Natural Mosquito Control blend of botanical and plant extracts lures mosquitoes and then "jams" their receptors so the can no longer find (and bite!) people and pets. Those pesky bugs then fly away and stop looking for a meal. It's tough, rugged exterior stands up to the outside elements protects 2/3 of an acre for up to 1 week. It's safe for the environment, children, and pets. This all-natural product does not contain DEET. EverSave is so easy to use, just add water and hang! Take back your outdoor activities with EverSafe.
If you need more information about the product, give us a call or read here. Based on customer testimonials, we are confident this product will keep you coming back for more and more. Enjoy your summer without those aggravating, buzzing bugs with EverSafe All-Natural Mosquito Control!