ADM SENIORGLO Horse Feed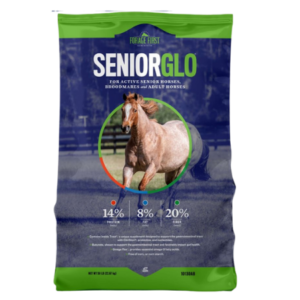 ADM SENIORGLO is a premium, concentrated feed for senior horses, broodmares, adult horses, and growing horses.
It is formulated to be fed at 4-8 lb per day along with good-quality forages. With this product, you can adjust the forage-to-concentrate ratio of your total feeding program to make it just right or your senior horse. SENIORGLO contains HEALTHY GLO™, Omega Flax™, vegetable oil, and highly digestible fiber from alfalfa, beet pulp, and soybean hulls. This feed also comes in soft pellets which are easy for senior horses to chew. This feed is an excellent choice in feeding programs for broodmares and growing horses.
Need more information? Stop by the store today.