ADM PowerGlo Horse Feed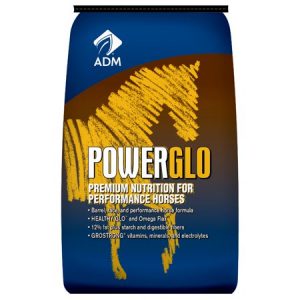 ADM PowerGlo horse feed is a source of energy that does not contribute to metabolic and digestive disorders and developmental orthopedic disorders (DOD) is a long-awaited breakthrough for the horse industry.
POWERGLO, a Premium Blend product, contains stabilized rice bran, which is considered the best source of beneficial dietary fat for horses. Premium Blends are formulated by combining stabilized rice bran with protein, vitamin, and mineral sources to produce a unique group of feed products that are more energy concentrated, thus lowering the feeding rate in comparison to traditional concentrate horse feeds.
POWERGLO, a Premium Blend, is a key component of Forage First® programs. Forage First programs combine good-quality forage, GROSTRONG® vitamin-mineral products, and Premium Blends to produce balanced total rations. With this combination of feeds, horses can be healthy and perform at their best when fed less grain than they would receive from traditional horse rations. Consequently, horses are at less risk of metabolic and digestive disorders and DOD that may result from high-starch intake. Stabilized rice bran is the foundation of ADM's Equine Premium Blend products.
Benefits of POWERGLO® (120)
A Premium Blend feed for elite performance horses.
For serious horsepower – maximum nutrition to achieve full performance potential
The perfect combination of fats, fibers and concentrated protein, vitamins, and minerals for elite equine athletes
13% protein, 12% fat and no more than 18% crude fiber
Lower feeding rate due to calorie dense formulation compared to traditional concentrate horse feeds
Less thermal load and less chance of digestive upset
Formulated free of starch from whole corn grain
P.U.R.P.O.S.E. Driven TechnologySM, a combination of unique components chosen specifically for their beneficial impact on horse performance and health
Energy supplied from stabilized rice bran, vegetable oil and highly digestible fiber sources (no corn grain in the formula)
Does not contribute to metabolic and digestive disorders, "grain high" disposition and thermal load
Adds body condition and contributes to hair coat shine and "bloom"
Contains GROSTRONG® Vitamins-Minerals
Supplies wheat germ meal for a rich source of octacosanol
Zinpro®* 4-Plex®* complexed zinc, manganese, copper and cobalt have higher bioavailabilities and may impart benefits for immunity, skeletal growth and hoof integrity
0.2-1 lb per 100 lb body weight daily feeding rate
Soft pellet; 50-lb bag