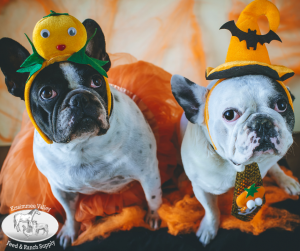 UPDATE: Thanks to everyone who attended! Here is a link to access the photos from the event. https://photocoephotography.shootproof.com/gallery/10681169/
All pets (and owners) are invited to our pet costume contest and fundraiser! Join us on Saturday, October 26th from 11:00 AM to 2:00 PM. This event is held at 215 13th Street and we are so excited!
So let's get into the details. There is a $75 prize for each costume category. These include: "scary, cute, fan favorite, and most unique" for your pets. You are welcome to dress up too. Start thinking about your outfits while you still have time! Also, there are different stations set up for the entire family to enjoy. Don't miss out on the pig kissing booth, bobbing for biscuits, and the photo stand! The grand prize is $250 for the overall winner. Make sure that's you!
In addition, there are special raffles, prizes, and event day specials inside the store. Did we mention there is a Yeti up for grabs? We are very happy to announce we are partnering with a local low-cost vet clinic for our pet costume contest and fundraiser. Snip-it is a non-profit spay and neuter establishment in Kissimmee that has generously agreed to help us out. For more information, visit their website here. Raffle tickets are only $1.00 and can be purchased at both stores.
As the event approaches, we are announcing special discounts and details about our raffle drawing so make sure you check back often. We hope to see you there.