Kissimmee Valley Feed offers Nutrena Savings: Proforce, Fiber Horse Feeds in December!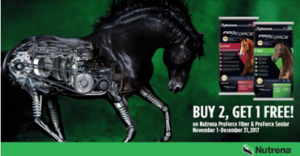 Shop KVF and save this month on your horse feed. Another one of our many great savings offered in December! Buy 2 bags, get 1 FREE on Nutrena ProForce Senior and Fiber Horse Feeds. 
Your horse has always given you its best. With ProForce Senior Horse Feed, you can do the same for your old friend. This proprietary formula is designed to meet the unique nutritional requirements of your senior athlete.
Includes Topline Balance, Nutrena's unique approach to topline health
Exclusive Nutri-Bloom Advantage™ improves total fiber digestion up to 15% for better health and bloom
Provides energy from highly digestible fiber and fat to maintain ideal body condition
Guaranteed amino acid levels to support muscle mass restoration and maintenance
Added prebiotics and probiotics to aid in nutrient absorption and digestive health
Organic trace minerals for immune support, increased bioavailability and improved skin, coat and hoof quality
Complete feed that can be fed in combination with hay/pasture or as the sole diet
ProForce Fiber is specially designed for performance horses that need optimum nutrition to help minimize the negative effects of stress from rigorous training and competition.
Includes Topline Balance, Nutrena's unique approach to topline health
High fat formula provides the energy necessary to support equine athletes
Balanced energy feed formulated without corn or corn co-products
Provides starch and sugar for glycogen repletion
Guaranteed amino acid levels to support muscle recovery after competition
Balanced Omega 3 and 6 fatty acids help reduce the effects of inflammation