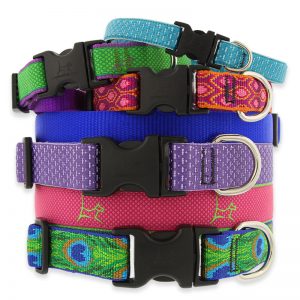 We are happy to introduce Lupine Pet Products into our store! This excellent quality brand offers leashes, collars, and supplies for both dogs and cats. Their durable components resemble the functionality and strength of hiking and climbing gear. The unsurpassed quality of our products combined with our unparalleled "Even if Chewed" Lifetime Guarantee!
We offer a variety of different collar patterns and designs for your furry friends. They are available in various sizes for maximum comfort and support. Bring in your companion in the showroom to try them on to find their perfect fit. Each collar is adjustable so you'll never have your pet accidentally slip away again. Ask any of our associates for assistance.
Our leashes come in multiple lengths and sizes depending on your preference. They are durable, strong, and fit for any occasion. Stop by and take a lap around the store to see which model works best for you. Ready to get shopping?
We are confident that you'll enjoy our new Lupine Pet Products! Stop by 215 13th Street to browse our selection today! For more information about Lupine Pets, visit their website here. If you have any questions, just give us a call at (407) 892-4040.