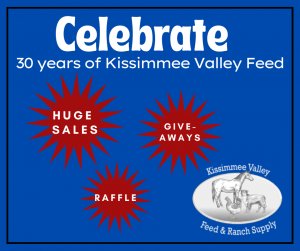 Kissimmee Valley Feed's 30-year anniversary is nearly upon us! Celebrate 30 years with huge sales at both the main store and 2nd store from September 30-October 2nd. Both stores will respectively hold a raffle and giveaway. To read more details about each store's specials, click here for the main store and here for the 2nd store.
KVF History:
In 1991, Kissimmee Valley Feed & Ranch Supply was established by Stan Touchstone. In the beginning, the primary purpose of the company was to meet the needs of Osceola County's extensive cattle industry. Stan's 15-year involvement with the Florida Cattleman's Association, as well as managing several cattle ranches, helped create a successful business.
Over the last 18 years, our community has changed. While we still have a significant cattle industry, a growing number of residents have included a variety of pets such as horses, dogs, cats, tropical birds, and exotic animals. Over the years, Kissimmee Valley Feed has continued to grow to meet these ever-changing needs of the community.
KVF hopes to continue evolving and serving the community's needs for MANY years to come. Thank you, Osceola County, for your patronage and friendship. We wouldn't be here without you. In conclusion, celebrate Kissimmee Valley Feed's 30-Year Anniversary with us!