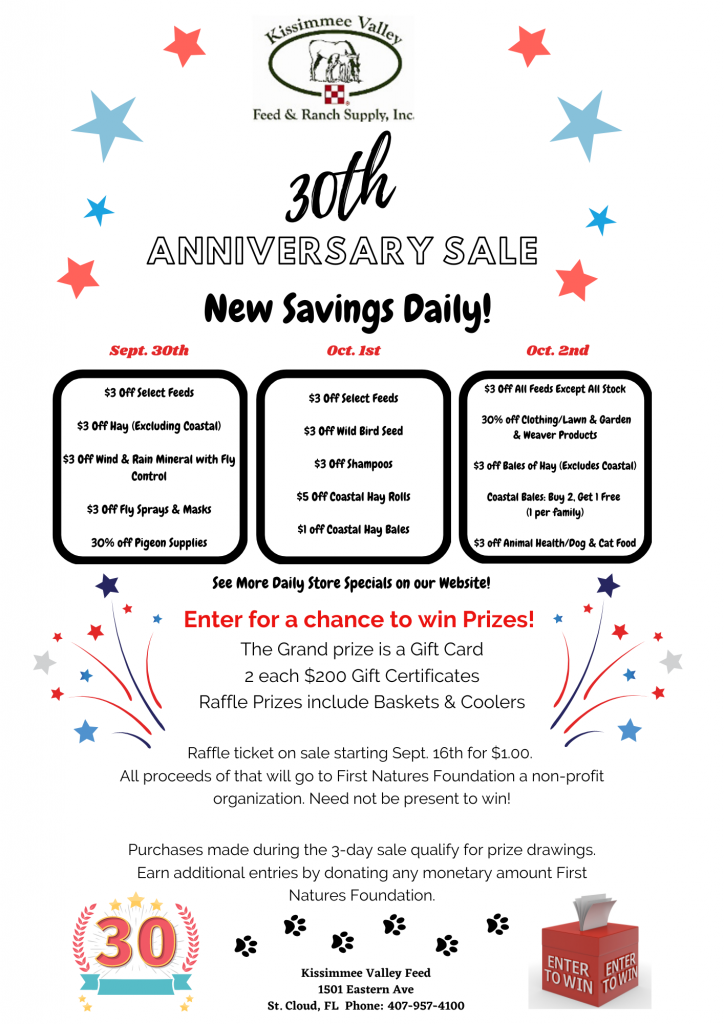 Celebrate our 30-year anniversary with huge sales, raffles and giveaways at the main store! The 3-day sale is from September 30th-October 2nd.
**BONUS**
* Raffle tickets will be on sale two weeks prior of sale for $1.00 a Piece, all proceeds of that will go to
First Natures Foundation
a non-profit organization. Two Purina coolers will be raffled . You do not need to be present to win.
* During the 3 day sale, with a purchase made you will go into a drawing for our big Giveaway which will be announced later on. During those 3 days you may also earn another way of entering the drawing by donating any monetary amount  First Natures Foundation.
Specials:
DAY 1 – THURSDAY, SEPTEMBER 30th
$3.00 off chicken feed
$3.00 off all hay excluding coastal
$3.00 off wind & rain mineral w/fly control
$3.00 off all dog & cat food
$3.00 pigeon feed
30% off all pigeon supplies
$3.00 off all fly spray & fly masks
DAY 2 – FRIDAY, OCTOBER 1st
$3.00 off all horse feed
$3.00 off all goat/sheep feed
$3.00 off all cattle feed
$3.00 off all wild bird seed
$3.00 all shampoos
$1.00 off coastal bales
$5.00 of coastal rolls
DAY 3 – SATURDAY, OCTOBER 2nd, 8AM-2PM
30% off all clothing
30% off ghost automatic gate openers
30% off lawn & garden
30% off weaver products
30cents off bags of shavings
$3.00 of rooster feed
$3.00 off corner post
$1.00 off line post

$3.00 off Purina molasses tub

$3.00 off all bales of hay excluding coastal bales

Buy 2 get 1 free of coastal bales ( limit 1 per Family )

$3.00 off all feed excluding all stock feed

$3.00 of all animal health products

$3.00 off dog & cat food
In conclusion, please celebrate with us and enjoy our main store 30-year anniversary specials!