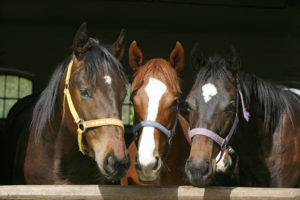 Did you know you can find horse tack equipment at Kissimmee Valley Feed? We offer a variety of tack conveniently located at our first store, located at 1501 Eastern Ave, St Cloud, FL.
"Tack" refers to all the equipment used on a horse as it is being ridden or handled, including saddles, girths, stirrup leathers, stirrup irons, bridles, bits, halters, surcingles and more. Our selection of quality horse tack spans all price points from budget-friendly to premier items, and it comes in a variety of styles. You'll find options for all types of riding, competitive hunter, jumper, event or dressage rider, or simply just trail riding.
At Kissimmee Valley Feed you'll find collars, cinches, halters, bits, tie downs and even leather cleaner. You can click here to see a listing of the products we offer.
Have any questions, just let us know. Our friendly staff is here to help.