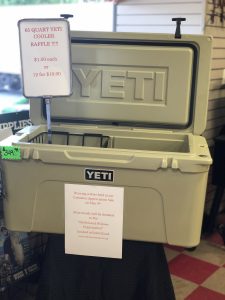 Attention all Kissimmee Valley Feed customers, enter for a chance to win in our Yeti Cooler & Kamado Joe Giveaway! Purchase a ticket for a chance to win either of these prizes. We'll select a winner during our 2019 Customer Appreciation Event on May 4th, 2019. What better way to celebrate our customers and community than with free merchandise?
Each year our customer appreciation event is a way we give back to our customers and support our local community. In addition to special savings on feed and products in our stores, we are raising money for a local organization, My Beloved Widows. ALL proceeds we collect from the 2019 Customer Appreciation Giveaway ticket sales AND the Customer Appreciation Day Luncheon Plate sales will be donated to My Beloved Widows. If you would like more information about the group, see here.
Here is how you can help!
Purchase your ticket(s) for a chance to win a 65 Quart Yeti Cooler (at KVF Store 1) or a Kamado Joe Grill (KVF Store 2). Ticket sales are open NOW through 1:30 pm on May 4, 2019. You do not need to be present to win!
$1.00 per ticket or buy 12 for $10! Fill out your ticket and enter it into the bucket at each store for your chance to win.
All proceeds from the ticket sales will go to My Beloved Widows! Make plans to attend this community event, you don't want to miss out!