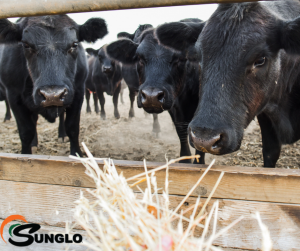 Make plans to join us for a Sunglo Show Feed Event! On Thursday, August 29, stop by the store at 6:30 for a presentation by Pete and Jeff. They are our very own Sunglo representatives and are looking forward to talking with you. They are very knowledgeable about the industry and are prepared to answer all of your questions. Don't forget to bring a notepad and pencil so you can jot down anything new you learn!
This beef show feed clinic covers the fundamentals of preparing for the upcoming fair season. It's important to learn as much as you can before your project begins so you can start off on the right foot…or should we say hoof. Also, feeding and nutrition are two major topics that are covered in the workshop. Understanding the important balance between the two will equip you with the tools to be successful all the way into the show ring. Pete and Jeff are also discussing how to care for the health of your steer. They take pride in educating their customers with helpful information and examples to make your outcome better. Take it from us, you do not want to miss out on this information! You have the unique opportunity to ask questions from the experts, so take advantage of that.
There will be exclusive Sunglo prizes up for grabs as well as light refreshments. So mark your calendars so you don't forget! To RSVP for our Sunglo Show Feed Event, see below.