Versele-Laga Plus I.C. + Start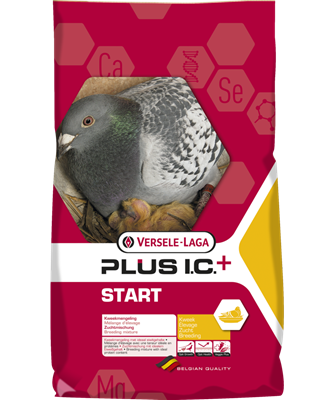 Versele-Laga Plus I.C. + Start: Complete breeding mixture is available at Kissimmee Valley Feed.
Versele-Laga Plus I.C. + Start is a complete feed for pigeons with the special extruded Immunity Concept+ pellet. Plus I.C.+ Start is an exceptional breeding mixture thanks to its ideal protein content. Enriched with the easily digestible extruded Plus I.C.+ pellets for a better digestion and an additional number of vitamins and amino acids, which are important during the breeding season. These vitamins and amino acids are not present in the traditional pigeon mixes. The Plus I.C.+ Start contains only 20% maize (little waste) and small peas.
Complete breeding mixture enriched with the Immunity Concept+ pellet, to deliver extra essential amino acids (extra building blocks), calcium and L-carnitin.
Ideal breeding mixture because of the high protein content.
The mixture is easily digestible and ensures a good development and protection of your future champions.
OPTI GROWTH
Unique combination of essential amino acids, absorbable calcium and L-carnitin. This will build new lives and ensures an optimal growth of the youngsters.
OPTI HEALTH
The Plus I.C.+ pellet contains a unique combination of organic (natural) antioxidants including beta-carotene (supplied through carrots), lutein, extra vitamin E, organic selenium, polyphenolic bioflavonoids and vitamin C. This unique combination stimulates the immune system.
VEGGIE PLUS
The extruded pellets of all Plus I.C.+ mixtures contain vegetables. They ensure an improved absorption of the pellets and supply a range of condition-supporting nutrients.
Analysis
crude protein 15.5%, crude fat 5.5%, crude fibre 5.5%, crude ash 3%, carbohydrates 58%, lysine 0.83%, methionine 0.3%, threonine 0.56%, tryptophan 0.16%, cystine 0.25%, calcium 0.17%, phosphorus 0.35%, sodium 0.03%
Directions
During the breeding of the young, the pigeons can be fed at will. In the brooding period, preferably feed less: 30 g of feed per day per pigeon. Always provide fresh drinking water.
TIPS
During the breeding period, the pigeons can be fed at will. If necessary 3 to 4 times a day, to prevent wastage.
Ingredients
red maize 5%, premium cribs maize 10%, small cribs maize 5%, toasted soya beans 4%, maple peas 8%, dun peas 8%, yellow peas 4%, large green peas 4%, small green peas 4%, tares 6%, white pigeon wheat 10%, yellow dari 9%, red dari 6%, safflower 7%, paddy rice 2%, hempseed 2%, pellet I.C.⁺ 6%