Red Flannel® Bites N' Bones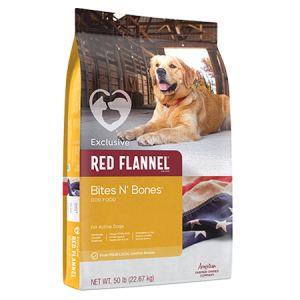 Red Flannel® Bites N' Bones, a soy-free formula, is specially designed to help normally active dogs maintain lifelong health. It supplies 100% complete and balanced nutrition for all life stages of normally active dogs.
Guaranteed Analysis
*Not recognized as an essential nutrient by the AAFCO Dog Food Nutrient Profiles
Feeding
RECOMMENDED DAILY FEEDING GUIDELINES FOR MAINTENANCE OF ADULT DOGS
ADULT WEIGHT IN POUNDS

AMOUNT TO FEED* IN CUPS PER DAY

up to 10

1/2 to 1

11 - 25

1 to 2-1/4

26 - 50

2-1/4 to 3-3/4

51 to 100

3-3/4 to 6

100+

6 cups plus 1/2 cup for each 10 lbs of body weight over 100 lbs
CALORIE CONTENT METABOLIZABLE ENERGY (ME): 3380 kcal/kg 1536 kcal/lb 301 kcal/cup*
The table provides feeding guidelines for adult dogs. The amount given to your dog may vary depending on age, sex, breed, activity level and environment. Adjust the amount fed to maintain ideal body condition. • Feeding Growing Puppies – When puppies begin to eat, which is usually 3 – 4 weeks of age, provide small amounts of solid food. Provide a constant amount of dry dog food until your puppies are fully weaned (6 – 8 weeks of age). After weaning, continue to keep the bowl filled with dry food. • Consult your veterinarian regularly to help maintain your dog's ideal body condition and health. • Feeding for Reproduction – Pregnant or nursing dogs may require two to three times the recommended feeding amount, for adult dogs, to maintain ideal body condition. Adjust feeding rate accordingly. • When changing your dog's diet, do so gradually over a 7- to 10-day period to avoid an upset stomach. • Provide fresh, clean water at all times. • Thoroughly wash feeding and/or watering bowls on a regular basis. • It is always good practice to wash hands thoroughly after feeding and/or handling pets or other animals. • Not for human consumption.