Purina Pressed Feeders Wild Bird Food: Sunflower Surprise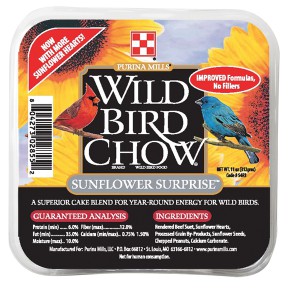 This high energy food source boasts of high fat content to supply vital energy for a variety of wild birds during cold months of fall and spring.
Available in the following sizes:
Sunflower Suprise™ – 12×11 oz
Directions
Smaller bag sizes feature stand-up, re-sealable packaging for long-lasting freshness and convenient storage.
Ingredients
Rendered Beef Suet, Millet, Cracked Corn, Sunflower Hearts, Processed Grain By-Products, Sunflower Seeds, Calcium Carbonate
Feeding
Remove old bird food and clean your feeder before filling with new Purina wild bird food.  Wash your hands thoroughly after filling your feeders. Not for human consumption. Store Purina wild bird food in a plastic or metal container in a cool, dry place.