Purina Omolene 300 Horse Feed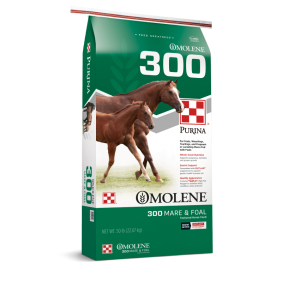 When there's greatness on the inside, it shows on the outside.
Purina Omolene 300 Horse Feed is now formulated with Outlast Gastric Support Supplement.
It took over 100 years of industry-leading research and innovation to build today's Purina Omolene horse feed lineup. We started with naturally nutritious high-quality whole grains packed with antioxidants, phytonutrients and prebiotic fibers. From there, countless nutrition studies and feeding trials at the Purina Animal Nutrition Center led to scientific breakthroughs that keep our formulas on the cutting-edge of equine nutrition and performance.
Because only innovations proven to have the highest level of performance and safety earn their place in Purina Omolene horse feeds, you can feed with full confidence. Whether you need to fuel intense competitive performance, support your horse's gastric health or nourish the growth of the next generation of equine athletes, Omolene feeds are built to help solve your toughest nutritional challenges.
Purina Omolene 300 Horse Feed is formulated for foals and lactating mares being fed with their foals.
When you feed Purina's Omolene Horse Feed you will have the peace of mind that comes from the trust in and reputations of the Purina and the Omolene brands, which are backed by industry-leading research and over 100 years of equine nutrition.
Stop into Kissimmee Valley Feed with two locations in St. Cloud, Florida for your supply of Purina Omolene 300 Horse Feed today. Be sure to contact us with any questions you may have about your equine feed program. Need more information? Check out Purina's website here.