Purina Omega Match AhiFlower Oil Supplement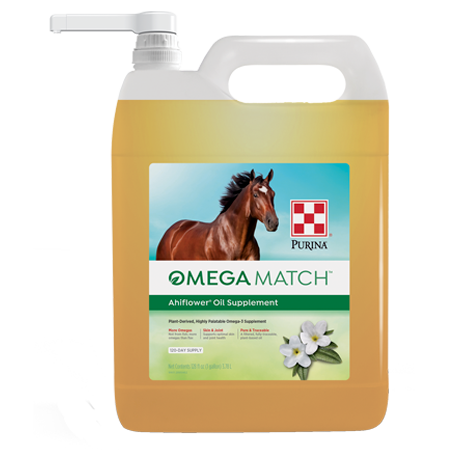 Some horses get the Omegas they need from pasture. Purina Omega Match AhiFlower Oil Supplement is specially formulated to fill in nutritional gaps for those horses who can't or don't have access to quality forage.
This product is a truly unrivaled omega source. AhiFower oil contains more and healthier omegas than any other natural plant or seed oil. It delivers the health benefits associated with fish oil, evening primrose oil, olive, and flaxseed oil.
Recommended for:
Comprehensive omega fatty acid supplementation to support joint, cardiovascular, skin, respiratory and reproductive health. It is also ideal for muscles, immune function, and normal glucose metabolism.
Available in 32 oz and 1 gallon sizes.  For more details see: Purina Omega Match Ahiflower Product Sheet
Be sure to stop into either one of Kissimmee Valley Feed's two locations to browse our full stock of equine feed & supplies. Have questions? Please contact us with any questions you may have and our knowledgeable staff will help you find the best solutions for your equine.
Features
PLANT-DERIVED, HIGHLY PALATABLE OMEGA-3 SUPPLEMENT
MORE OMEGAS - Not from fish; more omegas than flax.
SKIN & JOINT - Supports optimal skin and joint health.
PURE & TRACEABLE - A filtered, fully-traceable, plant-based oil.
Ingredients
ACTIVE INGREDIENTS per 30 mL Ahiflower® (refined Buglossoides arvensis) seed oil, 27.6g per 30 mL Omega-3 fatty acid 17.30g Alpha-Linolenic acid (n-3) 11.72g Stearidonic acid (n-3) 4.74g Omega-6 fatty acid 4.19g Linoleic acid (n-6) 2.79g Gamma-Linolenic acid (n-6) 1.39g Omega-9 fatty acid 2.79g INACTIVE INGREDIENTS Ascorbyl Palmitate, Mixed Tocopherols and Rosemary Extract
Feeding
Administer orally 30 mL Purina® Omega Match™ Ahiflower® Oil supplement per day. For horses needing additional support, administer 60-90 mL per day. Store upright after opening.