Purina Farm to Flock Wholesome Hen Treats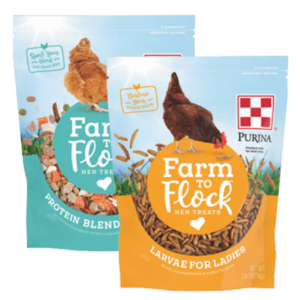 Watch your ladies come running for Purina® Farm to Flock® hen treats, the fun, easy way to treat your ladies with the high-protein goodness they need – and love!
Larvae for Ladies™ is carefully made with one of their favorite tasty snacks: whole, dried black soldier fly larvae, specifically selected for your hens' enjoyment.
Protein Blend for Hens is a delightful mix of the whole-food goodies your girls love, like wheat, safflower, peas, papaya, pumpkin seeds, black soldier fly larvae, and our specially formulated high-protein nugget.
Stop into one of our two locations to browse our full stock of poultry supplies. Our knowledgeable staff is eager to help you find the best solutions for your backyard flock.