Purina Carb Conscious Horse Treats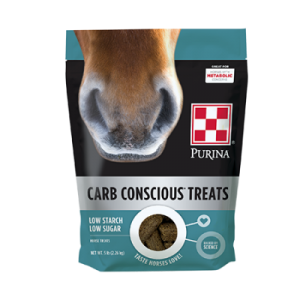 Show your horses some love with Purina Carb Conscious Horse Treats. Your horse will love this great tasting treat, and you will feel great knowing that it is low in both starch and sugar. Purina Horse Treats were researched at the Purina Animal Nutrition Center and are a perfect nutritional complement to any horse feed, even for horses with metabolic concerns. You can feel good rewarding (or just spoiling) all of your horses!
Includes Outlast gastric support supplement
Horses love the taste!
Convenient at home or on the road
Purina Outlast Gastric Support Supplement is the latest innovation from Purina and is part of an overall gastric health program designed to aid equine gastric comfort and support horses that may develop gastric issues.
Be sure to stop into either one of Kissimmee Valley Feed's two locations to browse our full stock of equine feed & supplies including Purina Carb Conscious Horse Treats. Have questions? Please contact us with any questions you may have and our knowledgeable staff will help you find the best solutions for your equine.