Perry's Pro Hoofcare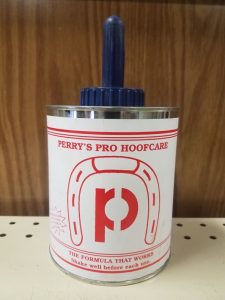 Perry's Professional Hoofcare is formulated with deep penetrating oils and vitamins for the treatment of hard, dry, brittle hooves and to stimulate new healthy hoof growth. Helps condition, maintain the pliability and enhance hoof texture for a stronger, more flexible hoof.
Available at Kissimmee Valley Feed store. Come check out this local favorite and keep your livestock hooves healthy. 
Active Ingredients include Fish Oil, Linseed Oil, Tung Oil, Mustard Oil, Pine Tar, Coal Tar Oils, Phenols, Iodine, Turpentine.