Triple Crown Low Starch Feed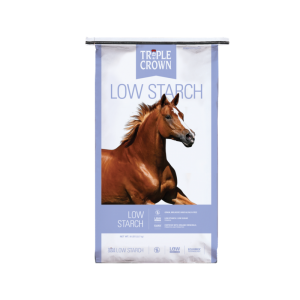 Triple Crown Low Starch Feed grain, alfalfa, and molasses free diet. Ideal for horses with insulin resistance, Cushing's ESPM and PSSM, requiring additional calories or tend to have allergies. Also ideal for HYPP horses.
This feed is formulated specifically for mature horses. Triple Crown Low Starch is a pelleted low starch and sugar (NSC) feed for horses requiring a lower diet for metabolic reasons or for horse owners seeking calmer behavior from horses. Featuring fewer carbohydrates than hay and pasture, it can be used as a complete feed to replace all or part of the forage portion of the diet. This feed is also suited for those who tend to have allergies, ideal for HYPP horses as the feed contains a low potassium level and works well for senior horses in winter in order to avoid the bricking of textured feeds. This is a complete diet and can replace all or a part of your fiber portion of your diet, however, we strongly recommend that you continue to feed a portion of your diet in long stem hay or pasture.
Find out why Triple Crown Feeds are superior, Watch our Video.