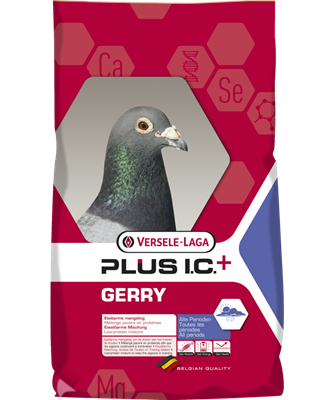 Versele-Laga Plus I.C. + Gerry: Complete low-protein mixture is available at Kissimmee Valley Feed.
Versele-Laga Plus I.C. + Gerry is a complete feed for pigeons enriched with the special Immunity Concept+ pellet. On the ample pigeon feed market Plus I.C.+ Gerry is becoming the leading low-protein mix, just like its predecessor. Ideal for young and old pigeons. The added extruded Plus I.C.+ pellets work for a better digestion and an additional number of vitamins and amino acids, which are important during the racing and breeding season. This is so much more than a conventional pigeon mixture that only provides a solution to the pigeon's protein and fat requirement. It creates the difference between a pigeon and a top pigeon.
Complete feed for pigeons enriched with the Immunity Concept+ pellet. Low-protein but high-fat mixture that provides enough energy for the pigeons to train intensively.
Suitable for both old and young pigeons, ideal to keep them in training.
Mixture is easily digestible and provides the pigeon with all the necessary vitamins, amino acids and minerals. It also guarantees an optimal protection against gastrointestinal problems.
OPTI MUSCLE
The Plus I.C.+ pellets contain organic selenium as well as other natural antioxidants. They reduce oxidative stress, ensure less build-up of lactic acid and reduce muscle damage.
OPTI ENERGY
The addition of lecithin and L-carnitin optimises fat absorption and fat burning, leaving the pigeons with more energy.
OPTI HEALTH
The Plus I.C.+ pellet contains a unique combination of organic (natural) antioxidants including beta carotene (supplied through carrots), lutein, extra vitamin E, organic selenium, polyphenolic bioflavonoids and vitamin C. This unique combination stimulates the immune system.