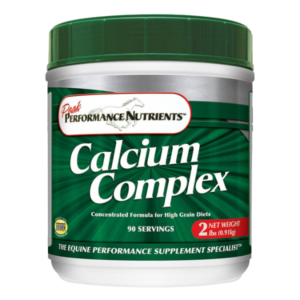 FOR HIGH GRAIN DIETS, HEAVY TRAINING OR LACTATING MARES
Calcium Complex is designed for horses on high grain diets or for use in situations where a high level of calcium may be required, such as heavy training or lactating mares. Calcium Complex, designed to balance feed rations, contains both Calcium Carbonate and Calcium Citrate for absorption. Additionally, Calcium Complex also contains necessary amounts of Vitamin A for bone tissue support and Vitamin D to help ensure proper calcium absorption.
Be sure to stop into either one of Kissimmee Valley Feed's two locations to browse our full stock of equine feed & supplies including Peak Performance Nutrients horse supplements. Have questions? Please contact us with any questions you may have and our knowledgeable staff will help you find the best solutions for your equine.