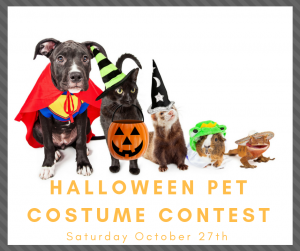 Join Kissimmee Valley Feed at our new store location (215 13th Street, Saint Cloud 34769) for a Halloween pet costume contest! We invite you to bring your pets and kiddos to the store for fun on Saturday, October 27th, 2018, at 1:00 pm. We'll award a prize for the best costume, all pets in costume can enter. A random drawing will determine the winner. Kids are encouraged to dress up too! Fun games include a pet bob for treats and tasty treats for our kiddos too.
Take advantage of special pricing on Pet Treats at the store throughout the day.
The contest is held at our Kissimmee Valley Feed store located at 215 13th Street, Saint Cloud 34769.