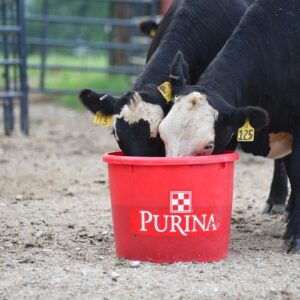 Fall is approaching, which means it's time to prepare your herd for the months ahead. Cattle nutrient requirements vary from season to season, so it's important to evaluate the effectiveness of your feed program. Check out these tips for creating a healthy mineral program and preparing your cattle for fall.
Quick, timely considerations for your Purina cattle mineral program.
Understand your phosphorus levels as grasses dry down. For grass low in phosphorus, consider a high-phosphorus cattle mineral to meet animal needs.
Continue using Purina® Wind and Rain® Storm® Fly Control Mineral with Altosid® (IGR) 30 days after the first frost to prevent flies from overwintering and jump-starting spring populations.
Building base mineral and vitamin stores pre-weaning can help calves stay healthy. Provide Purina® Stress Tubs for calves in the creep feeder cage. If you don't creep feed, make sure calves have access to a cattle mineral feeder with the rest of the cow herd.
Cows may crave salt more as grasses dry down. It can be helpful to provide additional salt in a granular mineral mix. Provide free-choice salt if using a cattle mineral tub that does not contain salt (i.e. non-complete).
Try Purina® minerals today through the Feed Greatness® Challenge and prepare your cattle for fall.
Source: Kent Tjardes, Ph.D., Field Cattle Consultant