For a limited time, Kissimmee Valley Feed is offering 50% off on two new Purina products:
2 lbs of Omega Match is equivalent to 4 hours of grazing! Along with 50% off, we are honoring Purina's $5 off coupon. Take advantage of these great savings!
AhiFower oil contains more and healthier omegas than any other natural plant or seed oil. It delivers the health benefits associated with fish oil, evening primrose oil, olive, and flaxseed oil.
Recommended for: Comprehensive omega fatty acid supplementation to support joint, cardiovascular, skin, respiratory, and reproductive health. It is also ideal for muscles, immune function, and normal glucose metabolism.
Available in 32 oz and 1-gallon sizes.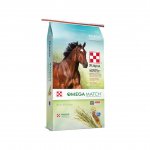 Ration Balancing Horse Feed is specially formulated by Ph.D. equine nutritionists. The ingredients and benefits are inspired by feeding fresh pasture. However, it doesn't have the drawbacks of too many calories or soluble carbohydrates. Additionally, this limited-ingredient formula addresses common sensitivities. It provides the fatty acids and antioxidants naturally found in green grass.
Recommended for: filling in nutritional gaps when your horse has a limited turnout. It is also ideal for use when your horse cannot graze green grass due to metabolic concerns.
Available in a 40 lb bag.
There is a limited supply of both these products at 50% off! Call or visit a Kissimmee Feed location today to find out more information about this offer.