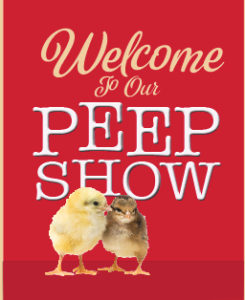 2018 Spring Chicks Arrive at Kissimmee Valley Feed this spring!  This schedule is for our original store located at 1501 Eastern Ave, Saint Cloud, Florida. Chicks are Pullets (females) unless specifically noted as males. SR means straight run, which includes both male and female. Please note that dates and types of chickens may change. These are estimated arrival dates from the hatchery. Dates can change due to the number of chickens hatched, or changes in the production schedule. We strongly advise that you call the store prior to making a visit to confirm delivery, type of chicks and the number available. We will keep you posted on new arrivals on Facebook!
Are you set up for a successful chicken coop? We carry all the chicken supplies you need to raise a healthy flock like chick feeders, chick waterers, heat lamps and more!
Don't see the chicks you're looking for? Let us know. We gladly special order in minimum groups of 5 chicks.
Will our second location offer chicks…..Yes! Once the new store is open we will offer chicks there too. If you know what types of chicks you want to see at the new store location, call us and let us know.
For questions about chick types or anything else, please feel free to give us a call at (407) 957-4100.
First Arrival Date – Friday, February 9, 2018
Cinnamon Queen
Rhode Island Red
Barred Rocks
Brown Leghorn
Second Arrival – Friday, February 16, 2018
Buff Orphington
Golden Comets
Black Sex Link
Ameraucana
Third Arrival – Friday, February 23, 2018
Ameraucana
Rhode Island Red
Cinnamon Queen
Brown Leghorn