Triple Crown Training Feed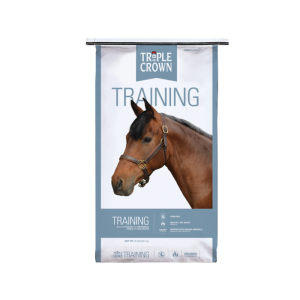 Triple Crown Training is an oat-based, corn free, high-fat feed perfect for hardworking horses that require a higher caloric intake. High in digestible fibers, this is the first Triple Crown feed to contain fish oil and flaxseed to dramatically increase Omega-3 fatty acid levels, which assist in decreasing inflammatory responses following intense exercise.
Triple Crown Training Formula is a high-energy grain mix designed to be fed to performance horses. Triple Crown Training Formula will provide all necessary minerals and vitamins to horses in training and performing in strenuous type activities when fed at a minimal rate of 6 pounds per day or more.
Begin by feeding as much good quality forage as possible along with free access to clean water and salt. Performance horses should receive the equivalent of a minimum of 10 pounds of hay per day or more. Feed Triple Crown Training Formula at a rate that will maintain the horse's desired body condition and energy level (Use .5 pounds per 100 pounds of body weight or 6 to 8 pounds per day for an average size Thoroughbred or Quarter Horse type horse as a starting guideline, and then adjust upward or downward as desired).
Find out why Triple Crown Feeds are superior here! Watch our Video!