Sniff N Search at Store #2!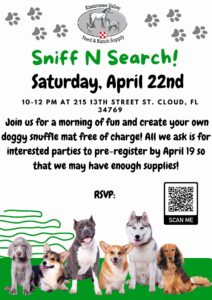 Kissimmee Valley Feed is hosting a "Sniff N Search" at Store #2 where you can make your own snuffle mat on Saturday, April 22nd from 10-12. Join us for a morning of fun and create your own. It is free of charge! All we ask is for interested parties to pre-register by April 19 so that we may have enough supplies!
Unsure what a snuffle mat is? No worries, we have a blog post where you can read more about them in depth, but to sum it up: A snuffle mat is designed to encourage dogs to sniff and forage and to really use that doggy sense of smell. Most dogs love to use snuffle mats. It lets them use their noses to hunt for food and encourages their natural instincts.
We are so excited for Sniff N Search at Store #2! As most of you probably already know, we love the pups! R.S.V.P now: