Christmas Customer Appreciation Sale at the Main Store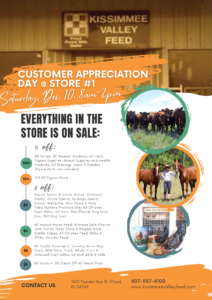 Christmas Customer Appreciation Sale at Main Store: Join Kissimmee Valley Feed's Main Store on Saturday, December 10, 2022, 8 AM – 2 PM. Everything in the store is on sale! Visit us at 1501 Eastern Ave St. Cloud, FL 34769.
% off:
20 % off Knives; All Weaver Products; All Tack; Pigeon Supplies; Animal Supplies and Health Products; All Shavings; Lawn & Garden (Fence Posts not included)
15 % off All Pigeon Feed
$ off: 
$5 off Equine Senior; Senior Active; Omelene family; Ultium Family; Strategy Family; Enrich; Wellsolve; Mini Horse ; Pony Feed; Nutrena Proforce line; All Chicken feed 50lbs; All Oats; Red Flannel Dog food line; PMI Dog food
$3 off All Impact Horse Feed; Nutrena Safe Choice Line; Purina Goat Chow ; Knights Goat; Cattle Cubes; All Chicken Feed 30lbs; 25lbs; Rooster Feed
$2 off All Cattle Developer; Country Acres Hog Feed; ADM Goat Feed; Whole Corn; Cracked Corn 50lbs; Scratch 25lb; 50lb
$1 off All Stock + .50 Cents Off All Fence Posts.
In conclusion, please join us for the Christmas Customer Appreciation Sale at the Main Store. It's our way of saying, "Thank you!" to our amazing community. Check out the Sales happening at Store #2 as well!