Welcome to Kissimmee Valley Feed & Ranch Supply
Proud to be a Purina Mills Dealer
We are now an authorized dealer for YETI Coolers.
We also carry Wrangler, Bucked Up and Western
Fashion Brands of clothing
as well as Ariat, Red Wing and Ferrini footwear.
Since 1991, Kissimmee Valley Feed & Ranch Supply has been serving our many customers in Osceola and the surrounding counties with the finest in feed, farm, and ranch supplies. Our goal is to have the best quality feeds in Osceola County for all animals. We have the most knowledgeable trained staff of any retail outlet in the area. Locally owned and operated, we want to help you and your animals. Everything we sell is guaranteed to satisfy your animals needs.
For the dog and cat lovers, we carry a wide variety of pet foods including PMI Nutrition, Solid Gold, Chicken Soup, and Canidae. In addition, we have a wide selection of tropical bird food from Higgins, ZuPreem, Lafeber, and Kaytee. If you own more exotic animals such as kangaroos, monkeys, llamas, or emus, we also carry the Mazuri line of feed. Please visit our animal feed page for more information
When it comes to animal health products, we carry a large variety of products from companies like Farnam, Pfizer, Aborbine, Intervet, Bayer, Merial, and more. If you have health related questions, please feel free to ask our knowledgeable staff for help.
Purina Mills has been providing the highest quality of animal nutrition for over a century. Their 1188 acre Animal Nutrition Research Farm is the industry leader when it comes to research and development of new feed and supplements. Purina delivers the highest quality products in the market. It is for this reason that we have chosen to carry Purina Brand Feed.
We also carry a full line of lawn and garden products including ant baits, insect and lawn chemicals, and fertilizers. If you want to use all natural products, we have a wide selection of organic items to fit your needs. In addition, we carry Morton brand water softener salt.
If you are in need of a new pair of boots or shoes, we now carry boots by Ariat, Red Wing and Ferrini. We have a wide selection of boots in stock. Stop in and try on a pair. If we do not stock the boot you need, we will be happy to order the right style and size.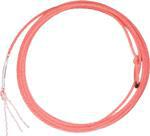 We now carry a line of both Head and Heel ropes from Fast Back Ropes. Fast Back is one of the premier rope manufacturers in the U.S.
As our Web site grows, we'll add information about other products to enhance your country lifestyle. Email us, or give us a call. You'll be glad that you did.
Please sign up for our email list so that you will be informed about up coming sales and seminars.